List of reciped

Stuffed chicken roll breast with proscuitto provolone, swiss chard and hard boiled eggs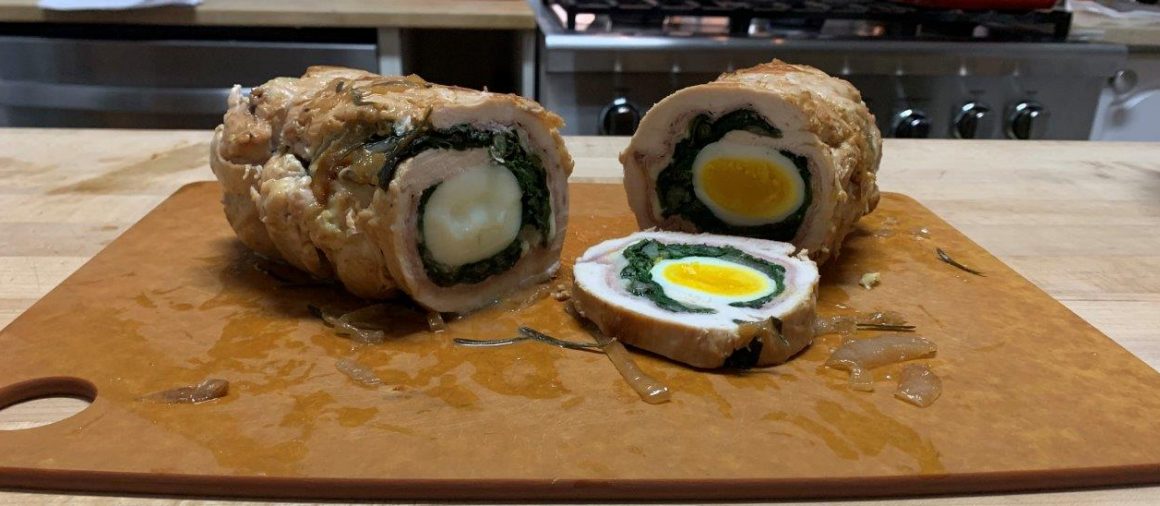 Stuffed chicken roll breast with proscuitto provolone, swiss chard and hard boiled eggs
Ingredients
2 full deboned chicken breast around 1500gr
20 slices thin prosciutto
20 slices of provolone or mozzarella slices
300gr of blanched swiss chard or spinach leaves only.
4 semi hard boiled eggs (cook for 8 minutes once it start boiling)
Bolognese seasoning salt
5 tablespoons of olive oil
50gr of butter
3 whole branches of rosemary
2 whole branches of sage
1 white onion chopped
1 cup white wine
2 to 3 cups of hot chicken broth
Bechamel :*
50gr of butter
50gr of flour
2 cups chicken broth
Salt and pepper
Method
On parchment paper cut your chicken breast in butterfly style and side by side pound it with a tenderizer making a big slice 12×12'' slice.
Season with Bolognese salt than add your prosciutto slices, provolone slices, swiss chard and last your semi hard boiled eggs.
Roll all ingredients together and tie with kitchen twine like a roast.
In a 28cm Julienne casserole add your olive oil butter at med high heat add your onion, rosemary and sage add your chicken roll and brown than add your wine a bit at med heat let the wine evaporate very slowly.
Add your broth a bit at a time cover slowly cook for 1 hour when it's nice and brown you'll have a nice brown sauce at the bottom of the casserole let it rest before you cut it and enjoy .
With the stems of the swiss chard cook them in the same water you blanched your leaves for 10 minutes with a bit of salt in the water remove ,drain in cold water and put in a ovenproof dish pour béchamel sauce and broil in oven until nice and gold serve with chicken stuffed roll .
You could also serve with roasted potatoes and green salad.