Marie-Fleur St-Pierre
Marc-André Cyr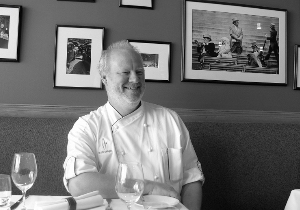 Back to the list of chefs
Marc de Canck
From a Belgium family, and "father-in-son" bakery, Marc de Canck has always been interested in the cooking profession. Still young, he begins his pastry training but soon joins the high-end kitchens. He opens his business in Belgium and California before finally landing in Sherbrooke, at only age 23, to expand all through Quebec. In 1995 he opens his restaurant "La Chronique" on Laurier street in Montreal.
It is probably one of the best kept secret of the city. In his restaurant, the quality of ingredients and precision in the kitchen are much appreciated by customers.
Marc De Canck's cuisine is savoury and full of flavour.
He is the author of the book "La Chronique aux saveurs d'ici" published in 1999.
Not to mention numerous prices and distinctions he has received:
1999 -Prix Roger Champoux, Fondation des amis de l'art culinaire, Montréal.
1998 -2e prix, concours " Les Toqués de Natrel ", catégorie plats principaux
Étoile de la gastronomie, Gala des Chefs Chartons-Hobbs
1997 -1er prix, concours " Les Toqués de Natrel ", catégorie dessert
Participate in this course